5 Best Future Use Cases for NFT in 2022 – Gadgets To Use
NFTs or Non-Fungible Tokens have become the new attraction in the cryptocurrency and Metaverse industry. People are already excited about it. It has the potential for good returns for early investors. But other than its value, People are confused about its real-life uses and implementations. So in this article, We will help you understand some potential use cases for NFT and show some examples of where they are already being used.
Use Cases for NFT
1. NFT Identification Cards and Documents
We all carry ID cards with us every day. There are apps for storing documents and IDs but there is always a security concern. With NFTs, your documents will be stored in the blockchain where no one else but you can have access to it. And it is next to impossible for anyone else to tamper or steal your data. It will also help in reducing fake and counterfeit IDs.
This system is starting to gain momentum. For example, On 28th December 2021. Our Prime Minister launched blockchain-based Digital Degrees at the 54th convocation ceremony of IIT Kanpur. These Degrees are verified globally and issued on an in-house blockchain-based system that is a part of the National Blockchain project.
Another good application is NFT based vaccine passports that were issued by the Republic of San Marino for those who were vaccinated.
2. Gaming and Sports Collectibles
Gaming has a huge market for NFTs. We know that you can buy skins and camos in games. But imagine how fun would it be if you could take those skins to other games you play? Or if you could rent your skins to someone for 30 days And even sell them? This is the future NFTs can help to achieve.
One of the biggest blockchain-based games Axie Infinity allows you to buy NFT creatures and items to use in the game or sell these creatures in exchange for cryptocurrency.
The sports industry is a huge market. Sports collectables like tickets, hats, balls and other items of great value are kept or sold with massive margins. NFTs can be used as digital tokens to sell the highlights of a game and iconic moments. You can own the NFT of the winning highlight of a match. And the value of such items increases over time depending on the fanbase.
Recently, the art of Cricketer Dinesh Karthik's win in the India- Bangladesh match was sold off in an auction as an NFT. The NFT had a voiceover from the player himself. The auction was held on rarible.com and the winning bidder also won an autographed jersey.
NBA and WNBA are selling Top Shot Moments tokens. These are digital collectable tokens of popular highlights in the game like a video of a player making a winning shot. These NFTs are being sold on the NBA Top Shot platform.
3. Domain Name NFT
With standard domain names, there is always a concern of renewal fees, censorship and security. NFT domains are unique one-time purchase items. There are customizable and can be easily sold or traded. You have complete ownership of it and do not have to pay any fees for the renewal of the domain name. You can add it to your crypto wallet address and access any Web 3.0 website or service with it.
NFTs, ensure that only you have the access to that unique domain name and it is not handed to someone else. Unstoppable Domain is a platform where you can buy customizable domain names and extensions as NFT.
Related article: Unstoppable Domains: Buying domain NFT and features
4. Digital Artwork
NFT based artworks already have a wide appeal. They are unique and help in providing exposure to digital artists to sell their artwork to potential customers. Many digital artwork projects have seen a monumental rise since their launch as NFTs. These artworks have proof of ownership tied to their current owner and they can be easily traded or sold in the blockchain.
People question the exact logic behind buying digital artwork as NFTs.You can just click save and own them right? As the blockchain system advances, we will see the benefits of owning an NFT instead of copying it more and more.
The biggest example of art as NFT is the library of artist Beeple. His artworks were sold for 69 million Dollars. There are also several art projects hosted on NFT marketplaces like OpenSea.
Also Read: How to Create and Sell Your Own NFT in 3 Simple Steps
5. NFT Posts and Tweets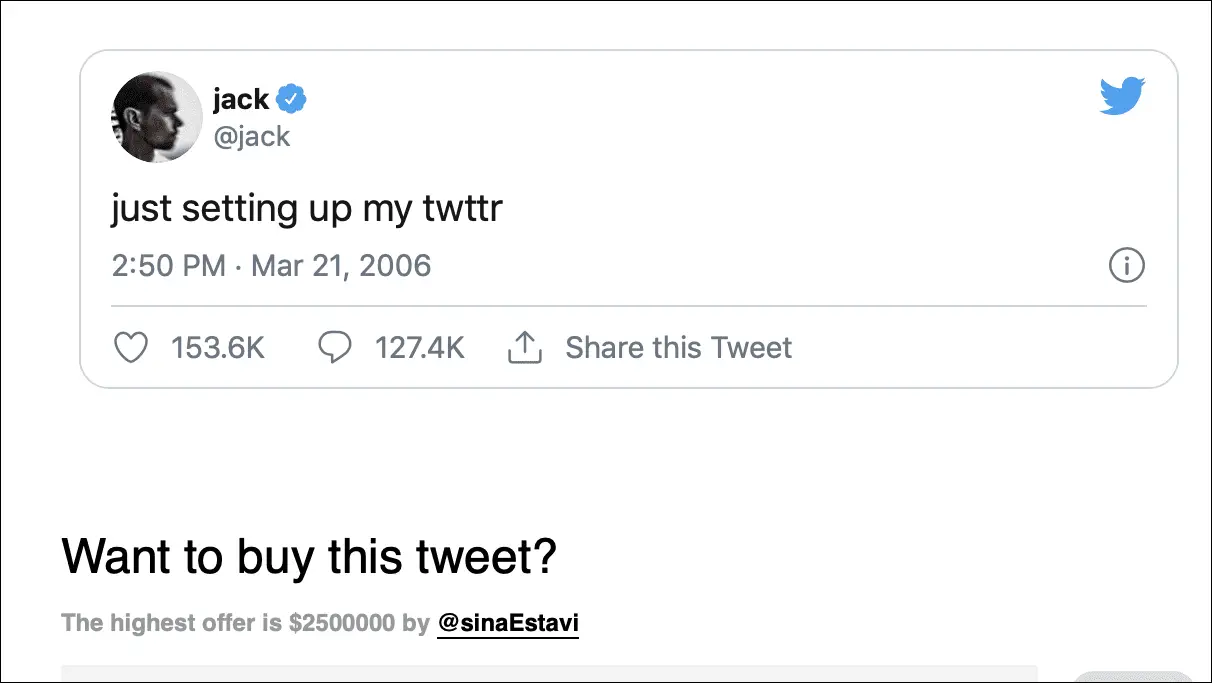 We discussed that NFT can be used to tokenize collectibles. So why not tweets and posts. Twitter and Facebook have become the center stage for people to announce, share and communicate with their audience so NFT Tweets is just the next step of making those tweets collectable items. Tweets from celebrities, announcements from brands, or world leaders carry the same significance in the digital world as a physical collectable item.
Jack Dorsey who is the founder of Twitter sold his first tweet 69 Million Dollars to a Malaysian businessman and then donated the amount. v.cent.co is a platform where you can buy or sell tweets as NFT.
Wrapping Up
These were some of the best use cases of NFT as of right now. We will see more options and uses as the adoption of blockchain systems grows. This was our list of 5 use cases of NFT and we hope we were able to help clear the confusion around them. Check out some of the examples mentioned in this article if any of them interested you.
You can also follow us for instant tech news at Google News or for tips and tricks, smartphones & gadgets reviews, join GadgetsToUse Telegram Group, or for the latest review videos subscribe GadgetsToUse Youtube Channel.