Galaxy Note 20 Ultra vs Galaxy Note 20: What's the difference?
[ad_1]

Samsung has finally launched its new Note 20-lineup, comprising of Galaxy Note 20 and Note 20 Ultra. Unlike the previous generations, there are quite major differences between the two devices that you need to consider while going for either of them.
Here's a detailed Galaxy Note 20 Ultra vs Galaxy Note 20 comparison, highlighting the differences so that you can decide which one's the right phone for you.
Galaxy Note 20 Ultra vs Galaxy Note 20: The Differences
Design & Build: Glass vs Plastic Back
In the past, Samsung has kept the build more or less similar for phones of the same lineup and generation. However, it seems to change with the Note 20-series, since both phones have different constructions.
Notably, the Galaxy Note 20 Ultra gets a glass back and an edge-to-edge curved display with squared corners. Whereas, the standard version features a plastic back and flat display with thicker bezels and rounded corners.
Now, while some people may prefer Note 20's plastic build for durability, it's a straight downgrade from the last year's Note 10. Anyway, that does help the phone weigh lighter at 192grams, compared to the Ultra's hefty 208grams weight.
Both phones have IP68 water resistance and support wireless charging.
Note 20 Ultra Dimensions: 77.2 x 164.8 x 8.1 mm
Note 20 Dimensions: 75.2 x 161.6 x 8.3 mm
Display: 120Hz, WQHD+ vs 60Hz, Full-HD+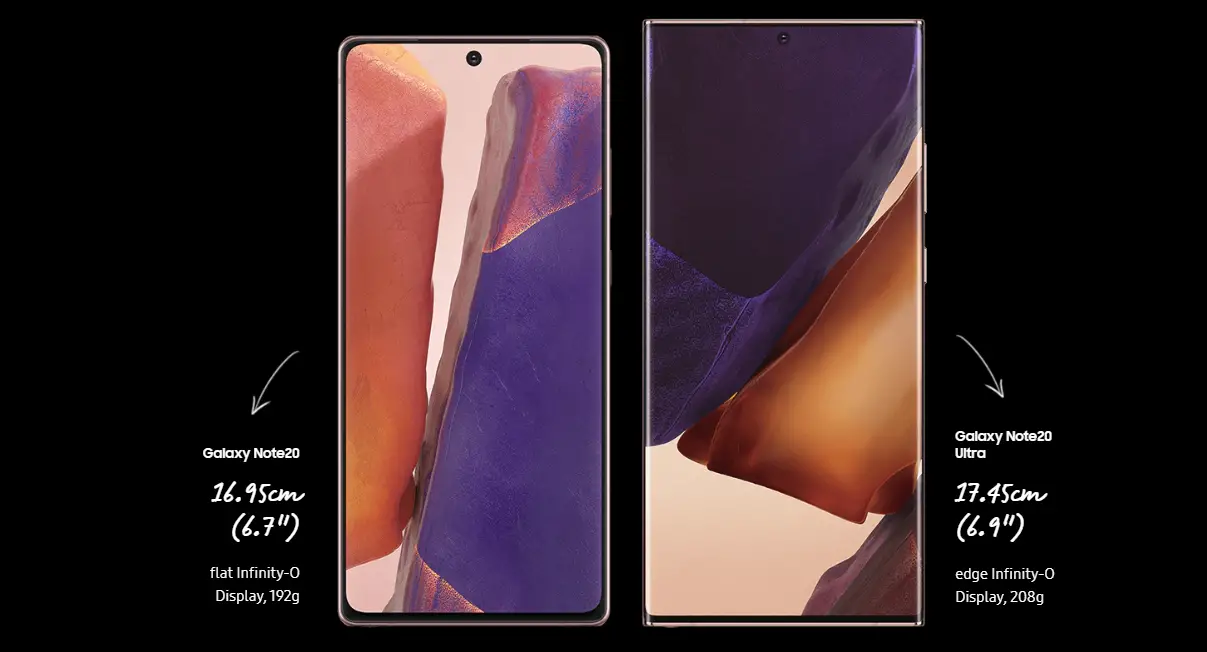 The duo uses Samsung's signature Infinity-O panels with HDR10+ certification. That said, they have completely different approaches.
The Samsung Galaxy Note 20 Ultra features a 6.9-inch AMOLED display with WQHD+ resolution (496ppi). The panel further supports the adaptive 120Hz refresh rate and uses the latest Gorilla Glass 7 (Victus) for protection. Akin to S20-series, you can't use 120Hz at WQHD+.
On the other side, Note 20 gets a smaller 6.7-inch AMOLED display with Full-HD+ resolution (393ppi). It's a standard 60Hz screen without any fancy curved edges. It also packs the dated Gorilla Glass 5, which is a big letdown.
Hardware: UFS 3.1 vs UFS 3.0 Storage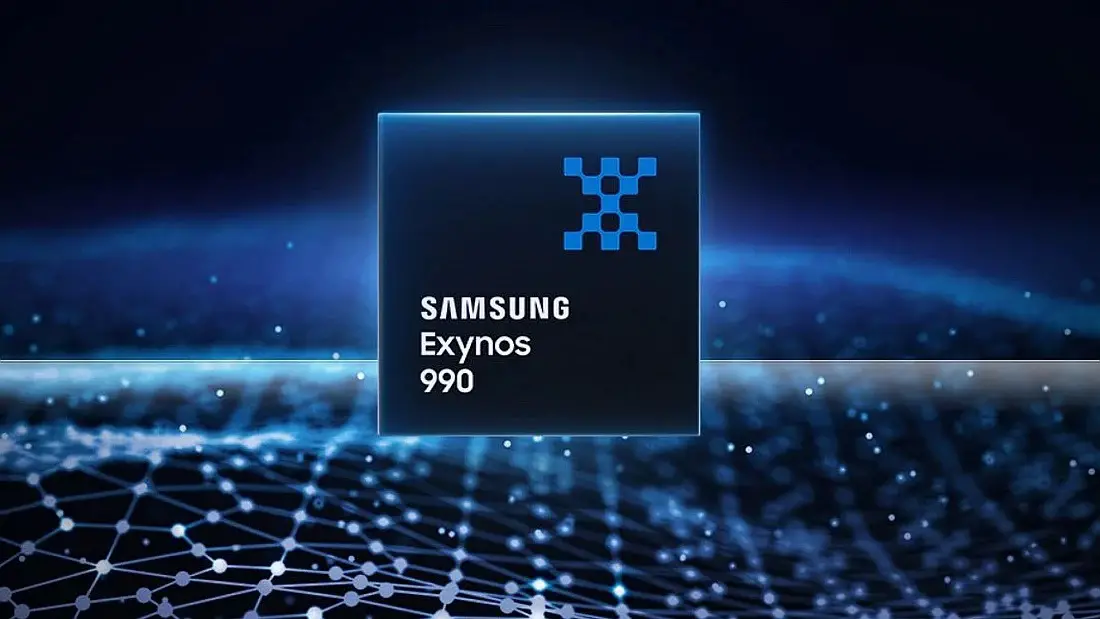 Both the Galaxy Note 20 and Note 20 Ultra are powered by Qualcomm Snapdragon 865+ for North America, China, Korea, and Japanese markets. Whereas the rest of the world, including India, gets Exynos 990 variants.
The Note 20 is available in a single variant with 8GB of LPDDR5 RAM and 256GB of UFS 3.0 storage variant with 4G LTE. Whereas the Note 20 Ultra gets support for 5G, 12GB of LPDDR5 RAM, and 256GB of UFS 3.1 storage.
Besides faster storage, Note 20 Ultra also gets a microSD card slot for storage expansion up to 1TB. The Snapdragon versions are more efficient and powerful, but that's a different story.
S-Pen Latency
The S-Pen on Note 20 Ultra has an ultra-low latency of 9ms. Whereas, the one on Note 20 has a latency of 26ms, which still is an improvement over the previous-gen. Lower input latency means less delay between the stylus and the line appearing on the screen.
Cameras: 108MP vs 12MP Triple Array
Cameras on Note 20 Ultra comprise a 108MP (f/1.8, 0.8µm) primary sensor with OIS, PDAF, and Laser Autofocus. Besides, there's a 12MP ultra-wide angle shooter and a 12MP periscope camera with 5x optical zoom and 50x space zoom.
On the other hand, Note 20 comes with a 12MP (f/1.8, 1.8μm) primary sensor with OIS and Dual Pixel Autofocus. There's a 64MP telephoto camera with 3x hybrid zoom, followed by the same 12MP wide-angle shooter.
The two phones are capable of recording up to 8K video at 24fps. Both share the same 10MP (f/2.2, 1.22μm) selfie shooter with Dual Pixel Autofocus, housed in the punch-hole.
Note 20 Ultra Cameras: 108MP + 12MP Persicope (5x Optical) + 12MP wide-angle
Note 20 Cameras: 12MP + 64MP Telephoto (3x Hybrid) + 12MP wide-angle
Battery & Charging: 4,500mAh vs 4,300mAh
Samsung has packed a 4,500mAh battery in the larger Note 20 Ultra while the regular version gets a 4,300mAh cell. Both phones support 25W fast charging and 15W wireless charging. Also, there's support for reverse wireless charging.
While the Galaxy Note 10 Plus had 45W charging, the Note 20-series has ditched it completely, probably because the real-life difference wasn't very huge.
Price: A Difference of Rs. 25,000
The Samsung Galaxy Note 20 has been priced at Rs. 77,999 for the 4G-only variant with 256GB storage. Whereas the Galaxy Note 20 Ultra will cost you Rs. 1,04,999 for 5G and 256GB storage configuration.
Samsung has already started taking pre-booking for both the models in India.
Note 20 Ultra Colors: Mystic Black, Mystic Bronze, Mystic White
Note 20 Colors: Mystic Bronze, Mystic Gray, Mystic Green
Galaxy Note 20 Ultra vs Galaxy Note 20: Conclusion
Note 20's plastic build, lack of 5G, and inferior 60Hz display simply fail to justify its price tag. In contrast, Note 20 Ultra seems to be the actual successor to the Note-lineup; but then again, it has been priced quite high.
The regular Note 20 isn't a wise choice, considering there are other phones with better value in the market. That said, the Ultra can be a good option for people who want the latest and greatest Note and are ready to pay the premium.
Anyway, what are your thoughts? Do let me know in the comments below. Here are some reasons to buy and not to buy the Galaxy Note 20 if you're interested.
[ad_2]

Source link